Novalie
Poor Ashia; in a few days she's forced to marry her slimy uncle. And as if that wasn't enough, her psychopathic brother is turning her days into a living hell. And at night she's haunted by surreal nightmares where she's eaten alive by wraiths in a dark forest.
Then she meets Novalie. She's everything that Ashia isn't: slim and sexy, bouncy, restless, boundless, careless ... very ...very unpredictable and ... mysterious. And she seems to knows MUCH more than she lets on ...
Novalie is a visual novel, with lots of choices and branching paths, where you have guide Ashia through her challenges and misery. It's a dark horror story filled with blood and tears, but also a bit of twisted humour. Ashia's world is unfair, scary and often hopeless. And even though the ghosts of her dreams are scary, they are nothing compared to the humans in her real life.
So what's the secret of the dark forest in Ashia's dreams? And who's painting the drawings which seems to appear in her notebook at night? Who's brutally attacking her family members? Is there a way out? What's the thing with the mysterious shower knob? And most importantly ... who is Novalie?.
Buy on Steam (Demo version available)!

Screenshots
Click on the thumbnails for bigger images.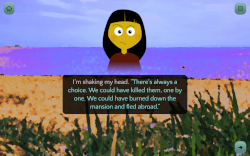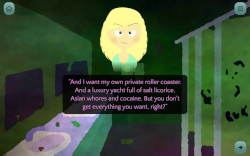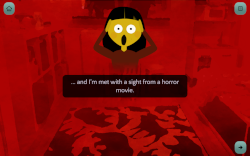 FAQ
Is this a game for kids?
No. Absolutely not.
I've found a bug (or spelling error)!
Please contact me, and I'll fix it asap!
Is there a walkthrough to the game?
No, not yet.
I love the game, and I like to send you candy, jewels and gold!
Please contact me at once!
I don't want to send gold and stuff, I just want to say hi!
You can still contact me.
What technologies are used (for geeks only)
The game is written in JavaScript/HTML/CSS and transformed into a standalone executable with ElectronJS. All graphics are made with pen and paper, Gimp and Inkscape.